Skaala – 50°11,760 N – 03°49,703 W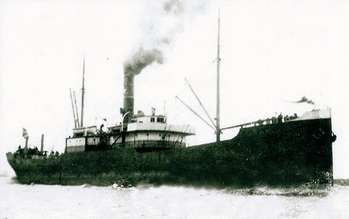 The Skaala is an excellent dive.
The Skaala (Scale in English) was a Norwegian steamer of over 1100 tons. She was built in 1906 in Bergen, Norway. The Skaala was taking coal briquettes from Port Talbot (in South Wales) to Rouen. On Boxing Day 1917 she was waylaid by the German submarine UB 35 and torpedoed amidships on her starboard side. All the crew (bar one) abandoned ship, and the Skaala sank just south of Bolt Head. She now lies upright on a sandy sea bed at 47m.
The holds of the Skaala are full of coal briquettes. These are cubes of compressed fine coal that were used by steamers during the 1st World War period. Although the briquettes are heavy they were easier to handle in a ship than shovelling in loose coal. Plus they maximised the economic use of fine coal. The Skaala's briquettes were made at a place alongside Cardiff docks. The site is now a Welsh film studio (2016) that makes many films including Doctor Who.
The Skaala has 2 boilers and a standard triple expansion engine. She lies pretty much north – south with her bows lying north. The wreck stands 5m proud of the sandy sea bed. The bows are intact and there are 2 anchors still in place. Holds 1 and 2 are full of the coal briquette cargo and there is a swim through between them. The Skaala has 2 boilers – but the engine room behind them is collapsing. On the starboard side the damage caused by the torpedo is obvious. The stern hold(s) are crammed with briquettes. The stern is collapsing but the diver can still see the iron propellor, remains of the rudder and an admiralty anchor lying on the seabed behind the stern. There is no scour around the Skaala. There are things to find on the seabed – but mostly coal briquettes.
150m to the west of the Skaala lies the Shoal Ground. This is a rocky plateau that rises up to 25m with an excellent East facing drop off covered with colourful sea life. For rebreather divers this makes for a good exit to diving the Skaala. Provided that the tide timing is right then at the end of the wreck dive the diver can catch the ebb tide and fin gently westwards at 45m to the Shoal Ground drop off. Then ascend whilst admiring the colourful sea life on the drop off and continue decompression over the plateau that abounds with fissures and soft corals. Good boat cover is essential.
Divers – Slack is slightly complicated partly owing to the nearby Shoal Ground. 1.5 to 2 hrs before HW (neaps) 2.5 to 3 hrs before HW (springs). After HW slacks are about 3 hrs after. A long slack on neaps. Best to arrive early on site.
Submerged description of the Skaala