Foyle – 50°16,735 N – 04°10,843 W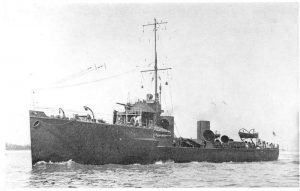 HMS Foyle was built in 1903 at Cammell Laird, Birkenhead. The Foyle was a River class torpedo-boat destroyer – an important stage in the evolution from a torpedo boat to a fleet destroyer. She was designed to be fast (25 knots) in most sea conditions. She had four 12 pdr guns and 2 torpedo tubes, was 225 ft long and over 550 tons – a serious war boat. There are very few remains of these destroyers left, so diving the Foyle means visiting an iconic wreck.
The Foyle sank in March 1917 about 3 miles south of Plymouth breakwater. The official story at the time was that the vessel had been mined in the Dover Straits. Despite her bows being blown off at Dover, she managed to end up just outside the Plymouth breakwater. In truth, she was mined near to where she sank outside Plymouth Sound. 27 men out of her complement of 70 died. Respect is needed when diving the wreck.
The Foyle lies in 51m on a somewhat silty sand sea bed. She is upright but lists at an angle of about 30 degrees to port and lies  NW (stern) – SE (bows) with port side pretty much buried.  Quite broken up at the bows but her boilers, engines, a prop shaft and the stern section plus gun can still be recognised. The boilers are good examples of Yarrow boilers – not the usual Scotch boilers that divers encounter. These high pressure boilers were compact, have a triangular shape and were popular with warships.
It's all too easy to stir up the muddy silt on this site. Wildebeest divers will quickly lower the vis.
Divers – Slack water is about 3 hrs before HW and 3 hrs after HW.