HMS Scylla (50º19.665 N, 004º15.162 W)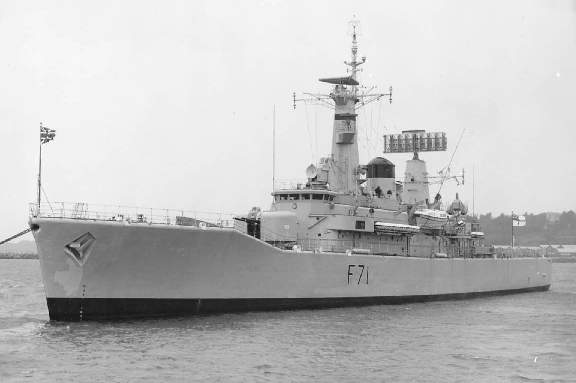 The Scylla was the last frigate to be built at Devonport in 1968. She was decommissioned in 1993.
An ex-Royal Leander class naval frigate, HMS Scylla, was placed on the seabed in Whitsand Bay, South Cornwall on 27th March 2004. The reef was placed there by the National Marine Aquarium in Plymouth with funding from the South West of England Regional Development Agency as a giant climbing frame for divers. The vessel had its top chopped-off and holes cut into the side to allow divers to swim through the hull.
This is Europe's first artificial diving reef. The wreck lies upright on a sandy sea bed of about 23m. Top depth is about 9m. She is 113m long and 13m wide.
​Plymouth Sound Dive Club goes to the reef fairly frequently but avoids weekends in the summer when boat traffic gets a bit busy. If you have the appropriate training and confidence, the swim-throughs are a safe place to explore the insides if you get bored with the outsides. The placement went very well and Scylla now (winter 2008/9) supports a mature steel wreck community visually dominated by plumose anemones, dead men''s fingers, sea squirts and tubular hydroids.
There is much more marine life to fascinate the amateur naturalist and, in 2007, the sea fans settled so adding to the beauty of the reef. Scylla is excellent for photography.
By 2018 the Scylla has settled nicely into the environment. She is well colonised by all sorts of sedentary plants and animals. Many fish find the wreck a great place to live around. For divers, the wreck goes from strength to strength. This is quite a unique wreck in that she has been positioned and prepared with divers in mind. After nearly 15 years the fruits of this approach are obvious. The Scylla is extant and gives all sorts of divers the possibilities for different dive experiences. Great for training, great for exploring. You can fin outside and admire the excellent bows. You can swim underneath the stern and see the prop shafts. You can venture inside and go as far as you wish into what was not so long ago a working environment for naval people. There's a lot there ranging from engine rooms to matelot toilets. Safety holes that have been well placed in and alongside the wreck. But be prepared. Accidents can happen – and have done.
In short, the Scylla is a great wreck dive.
Divers – no real problem with currents but the site is not slack free. More of an issue is visibility – partly caused by wildebeest divers and partly by the site. And be aware of other divers. In season this site can suffer from diver saturation.